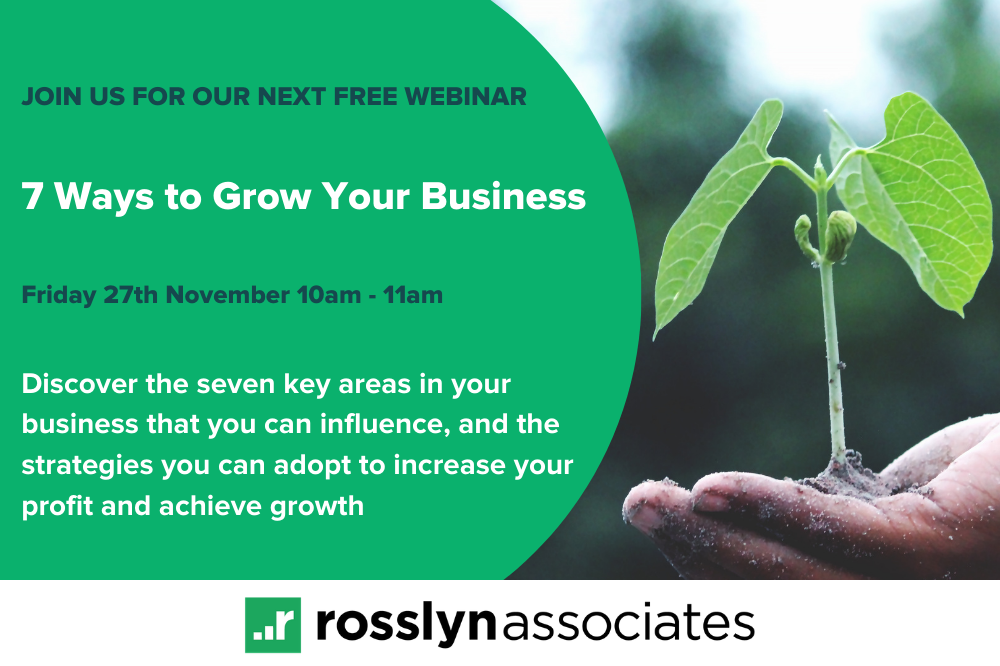 WEBINAR: 7 Ways to Grow Your Business
On Friday 27th November at 10am we will be hosting our next complimentary business development webinar: 7 ways to grow your business.
Join us to learn the key areas within your business which you can influence, and the strategies you can adopt to increase your profit and achieve growth and improvement.
You'll also learn about the mindset change required to succeed in a changing business landscape.
By attending the webinar you'll:
• Understand how to map a clear path to get your business from A to B
• Discover the seven ways to grow your business
• Identify strategies to grow and improve your business
• Understand how to adapt your business for greater success
• Achieve continuous growth via implementation of best practice strategies
The webinar will begin at 10am on Friday 27th November. It will last around one hour, including a chance to ask questions.
The webinar is free and open to anyone to join. If you think you know someone who would be interested or could benefit from the webinar, feel free to pass this post on!
We previously hosted an in person seminar similar to this last year. We received some great feedback from our attendees:
"Thought provoking"
"The seven steps are a great summary to quickly identify potential areas for change"
"The 7 ways, which we should all know, all make more sense when set out in a simple manner/strategy"
"Small changes can really add up and make a big difference!"
If you have any questions, please get in touch! You can send an email to info@rosslynassociates.co.uk and one of the team will be more than happy to help!
We hope you can make it!