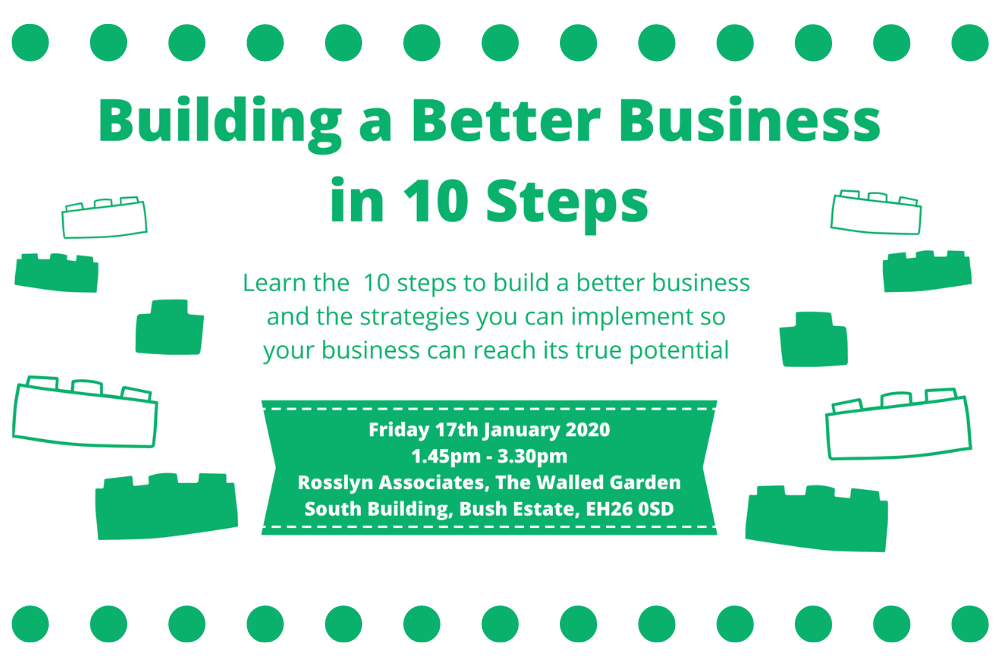 SEMINAR 5: Build a Better Business in 10 Steps
On Friday 17th January 2020, come along to our next seminar and learn the 10 steps to build a better business! You'll learn ways to make your business more successful and you'll leave with practical strategies which you can implement so your business reaches its true potential.
Get 50% off tickets!
We are offering 50% off tickets to our seminar to everyone who subscribes to our newsletter. Once you've subscribed, we'll send you an email with a code which you can apply when buying your ticket.
Tickets to this seminar are priced at £20, you'll get yours for just £10 when you subscribe!
We also send out useful articles in our newsletter, so more reason to subscribe!
Follow the link to subscribe now – https://rosslynassociates.us16.list-manage.com/subscribe?u=14b32286e692f636c6b22f051&id=71b73dbc42
Get tickets today
Tickets are available from our Eventbrite page here: https://www.eventbrite.co.uk/e/building-a-better-business-in-10-steps-tickets-85476134419
Benefits of attending our Build a Better Business seminar
• Understand the 10 steps to reach your business's full potential
• Gain clarity on where you can add value to your business
• Learn best practice and practical ways to take each step
• Define the first three actions you'll take
• Learn how to be a better leader and create a strong workplace culture
Discover how you can unleash your business's full potential
• Do you know exactly what you want from your business?
• Do you understand where your business is at now (warts and all)?
• Is your business reaching its true potential?
The seminar will begin at 2pm sharp, please arrive for 1.45pm so there's time for a coffee and to settle before we begin
Refreshments will be available.
We hope you can make it along so you can learn how to build a better business.
Contact us for more info:
Call: 0131 445 1825
or
Email: info@rosslynassociates.co.uk