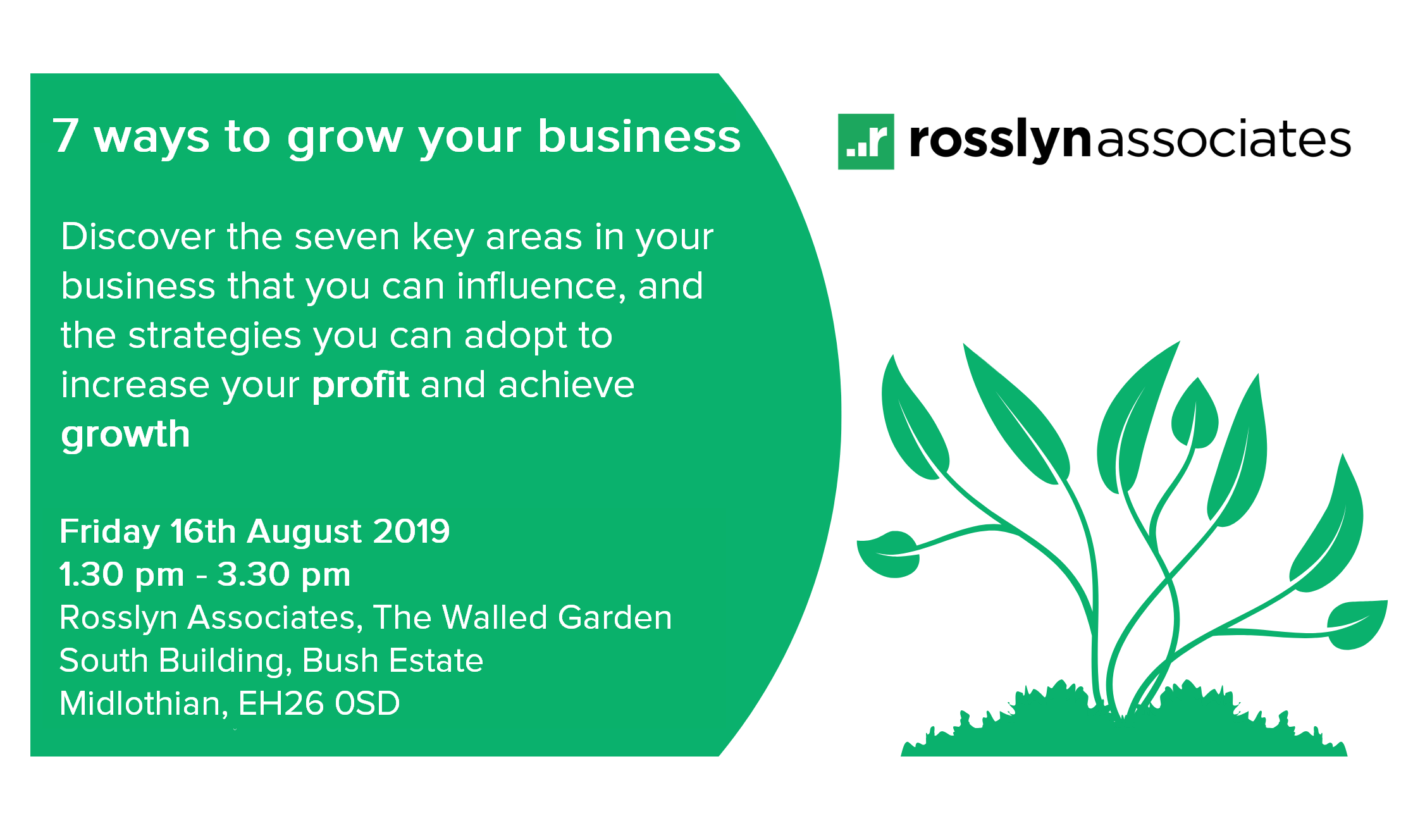 SEMINAR: 7 ways to grow your business
On Friday 16th August 2019, Rosslyn Associates will be hosting their first seminar, and you're invited!
The seminar is titled "7 ways to grow your business". It will help you discover the key areas within your business which you can influence, and the strategies you can adopt to increase your profit and achieve growth.
It will be the first in a series of seminars which we will be hosting. To keep up to date with our events you can check our event page here – www.rosslynassociates.co.uk/events
Free tickets!
Our seminar is priced at £20, however we are offering tickets to our newsletter subscribers completely free of charge! Sign up to our newsletter today to receive complimentary tickets – http://eepurl.com/drnZjv
Get your tickets today!
Tickets can be purchased from our Eventbrite page here – https://www.eventbrite.co.uk/e/7-ways-to-grow-your-business-tickets-66865300915
About the seminar
Come along and learn about the mindset change required to succeed in a changing business landscape.
The benefits of attending:
Look at your business like you never have before & be challenged to adapt
Understand the seven ways to grow your business (& how they apply to you)
Learn how to set a roadmap and dashboard for your business
Discover how to measure and maximise business efficiency
Learn how the seven ways impact your profit and cashflow
We'll cover the seven key areas in your business that you can influence and the strategies you can adopt to achieve growth.
Not on track to achieve your desired financial results this year?
Want to increase your profit and improve cashflow?
Want to improve margins?
Looking for business growth?
If you're too busy working in your business to focus on working on it, join us for this educational event. You'll identify potential areas for profit improvement, learn vital business growth strategies and understand how you can easily apply them to your business.
Come along at 1.30 pm on Friday 16th August. The seminar will begin at 2 pm.
Refreshments will be available.
We hope you can make it!
For more information call us on 0131 445 1825 or email info@rosslynassociates.co.uk