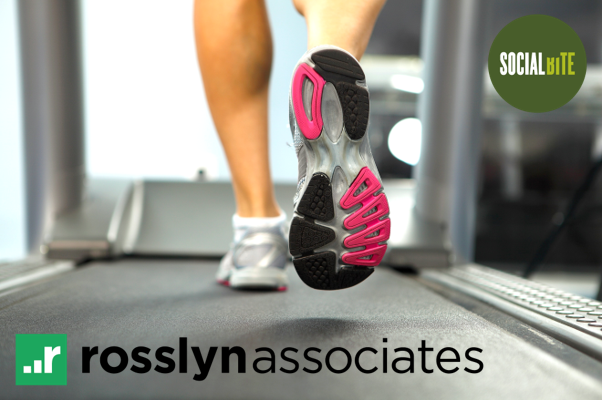 Rosslyn Associates charity treadmill marathon!
On the 12th January 2018 the Rosslyn Associates team will be bringing a treadmill into the office and will take it in turns to run (or walk) until together we complete a full marathon (42.195 kilometres or 26.219 miles!)
Not only will we raise money for a great cause, it will also be a good chance for us to run off all the mince pies we will no doubt overindulge in over Christmas! All the running will also help us get through our busy period by releasing endorphins and energising us, making us feel good, which will help us finish off any remaining last-minute tax returns!
We're fundraising for Social Bite
We have chosen to fundraise for Social Bite. Social Bite are a charitable organisation who seek to alleviate homelessness. They provide meals, employment, support and housing for homeless people in Edinburgh and other areas of Scotland.
How to donate
We would really appreciate it if you could spare any money you can for this great cause. If you would like to leave a donation, please visit our virgin money giving page here:
https://uk.virginmoneygiving.com/Team/RosslynAssociatesLtd
We are really grateful for any donations, big or small!
Find out more
For more information about all the great work social bite do, please visit their website here: http://social-bite.co.uk
Take a look at this video from Social Bite showing the great things they do for the local community:
Thanks again for your donations and support, We really appreciate it!