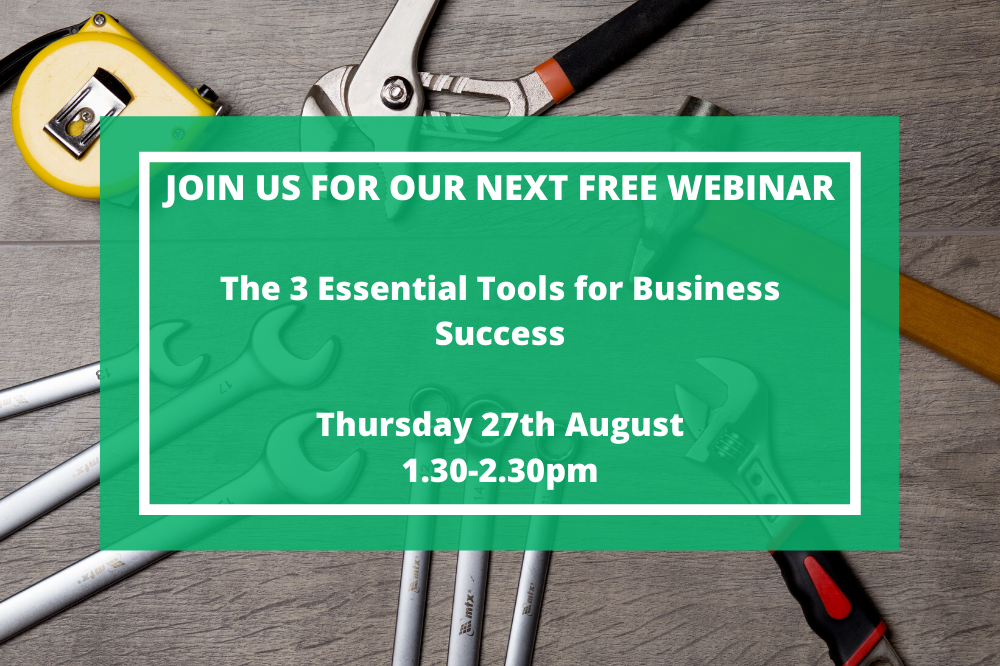 WEBINAR: The 3 Essential Tools for Business Success
Join us on Thursday 27th August 2020 at 1.30pm for our next complimentary business growth webinar: The 3 Essential Tools for Business Success. You'll learn the tools most powerful for business success and how to use them.
The benefits of attending
Understand the power of 1%
Learn how you can best deal with inevitable change
See how these tools can give you more cash, more time, or less stress
Increase your confidence and motivation to take control of your business
Implementing these three essential tools will help you to ensure the success of your business…
Does your business reality match the dreams you had when you started?
Do you want more money, less stress, or more time away from your business?
Do you struggle to adapt to change?
If you'd like to join our webinar – register here. The webinar will begin at 1.30pm and will last approximately 1 hour including a chance to ask us any questions. We hope you can join us!
Our business growth seminars and webinars are high value and educational. You'll learn lots of important information about how to build a great business. If you are looking to take a step back and spend more time working on the structure of your business and how you can make your business more successful, rather than solely working on the day to day tasks within it, our webinars and seminars are a great place to begin.
We look forward to seeing you there! Please get in touch with us at info@rosslynassociates.co.uk if you have any questions!