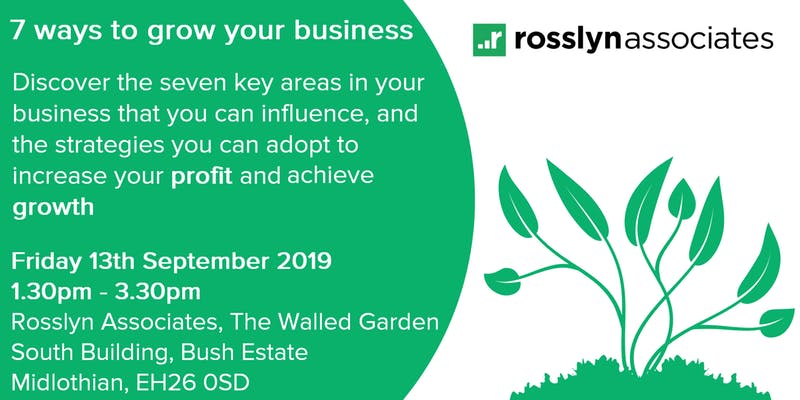 SEMINAR 2: 7 ways to grow your business
Due to the success of our first 7 ways to grow your business seminar, we thought we would host the seminar again with a new group of attendees!
Come along to discover the key areas within your business which you can influence, and the strategies you can adopt to increase your profit and achieve growth! You'll learn about the mindset change required to succeed in a changing business landscape
Half price tickets!
Tickets for the seminar are priced at £20 + booking fee, however we are currently offering 50% off for subscribers to our newsletter! To receive your 50% off code sign up here!
Get your tickets today
Tickets can be purchased from our Eventbrite page here – https://www.eventbrite.co.uk/e/7-ways-to-grow-your-business-tickets-69742873813
The benefits of attending:
• Look at your business like you never have before & be challenged to adapt
• Understand the seven ways to grow your business (& how they apply to you)
• Learn how to set a roadmap and dashboard for your business
• Discover how to measure and maximise business efficiency
• Learn how the seven ways impact your profit and cashflow
We'll cover the seven key areas in your business that you can influence and the strategies you can adopt to achieve growth.
• Not on track to achieve your desired financial results this year?
• Want to increase your profit and improve cashflow?
• Want to improve margins?
• Looking for business growth?
If you're too busy working in your business to focus on working on it, join us for this educational event. You'll identify potential areas for profit improvement, learn vital business growth strategies and understand how you can easily apply them to your business.
Come along at 1.30 pm on Friday 13th September. The seminar will begin at 2 pm.
Refreshments will be available.
We hope you can make it!
For more information call us on 0131 445 1825 or email info@rosslynassociates.co.uk
We got some great feedback from our last seminar!
What some of our attendees said about our last seminar:
"Thought provoking"
"The seven steps are a great summary to quickly identify potential areas for change"
"The 7 ways, which we should all know, all make more sense when set out in a simple manner/strategy"
We also asked for feedback on four different areas- Presenter, Content, Administration, and Value of the seminar. These were rated on a scale of Poor, OK, Good, Great. Overall our attendees gave us 24 Greats, 7 Goods, and 1 OK (for administration). Great feedback for our first seminar!