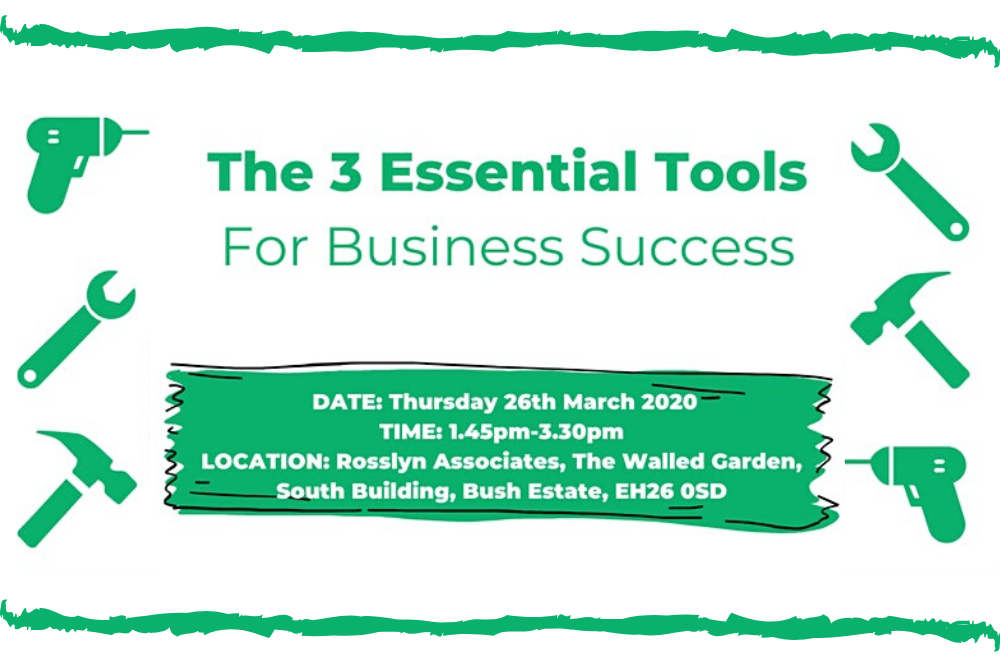 SEMINAR 7: The 3 Essential Tools for Business Success
Join us on Thursday 26th March 2020 for our next business growth seminar: The 3 Essential Tools for Business Success. You'll learn the tools most powerful for business success and how to use them.
The benefits of attending
Understand the power of 1%
Learn how you can best deal with inevitable change
See how these tools can give you more cash, more time, or less stress
Increase your confidence and motivation to take control of your business
Implementing these three essential tools will help you to ensure the success of your business…
Does your business reality match the dreams you had when you started?
Do you want more money, less stress, or more time away from your business?
Do you struggle to adapt to change?
Get your tickets today!
Our seminars have limited places, so get your tickets now! Tickets are available from our Eventbrite page here: https://www.eventbrite.co.uk/e/the-3-essential-tools-for-business-success-tickets-95860917585
Our business growth seminars are high value and educational. You'll learn lots of important information about how to build a great business. If you are looking to take a step back and spend more time working on the structure of your business and how you can make your business more successful, rather than solely working on the day to day tasks within it, these seminars can help you. We host one seminar per month, and we repeat previous seminars so you can get another chance if you miss one! Previous seminars we've hosted include:
August 2019- 7 Ways to Grow Your Business
September 2019 – 7 Ways to Grow Your Business
October 2019 – Cashflow Management
November 2019 – Cashflow Management
January 2020 – Building a Better Business in 10 Steps
February 2020- Building a Better Business in 10 Steps
We've had a lot of great feedback on all our previous business growth seminars, which you can view below. If you are interested in any of our previous seminars, let us know, and we can arrange to host them again. We'd also like to hear from you about any other topics which you would be interested in, that we could host a seminar about. We want to help you get the most out of your business and to provide you with information that you need. Send us an email at info@rosslynassociates.co.uk with any seminars you would like to see in the future, or any you missed that you would like to see.
Get 50% off tickets!
As always, we are offering an exclusive discount on seminar tickets to our mailing list subscribers. Once you've signed up, we'll send you over a code which you can apply when buying your ticket.
Tickets are priced at £20. You'll get yours for just £10 with the code!
Once you're signed up you will receive discount codes for our future seminars too, as well as useful articles and news.
Follow this link to subscribe now: https://rosslynassociates.us16.list-manage.com/subscribe?u=14b32286e692f636c6b22f051&id=71b73dbc42
Feedback from some of our previous seminars
"Very good content with a lot to consider"
"Good overview of what is important to run a successful business"
"Lots of ideas to think about to progress my relationship with my team"
"Very practical and informative"

"Sets out things I should really know for my business in a simple manner/strategy so it all makes sense"

"Reinforced the massive action I need to take for my business"

"I now understand how cashflow works"

"The seven steps are a great summary to quickly identify potential changes"

"Thought provoking"

"I will recommend that others do this seminar"
"I found all of the content valuable"
Register today! If you have any questions call 0131 445 1825 or email info@rosslynassociates.co.uk
We look forward to seeing you there!